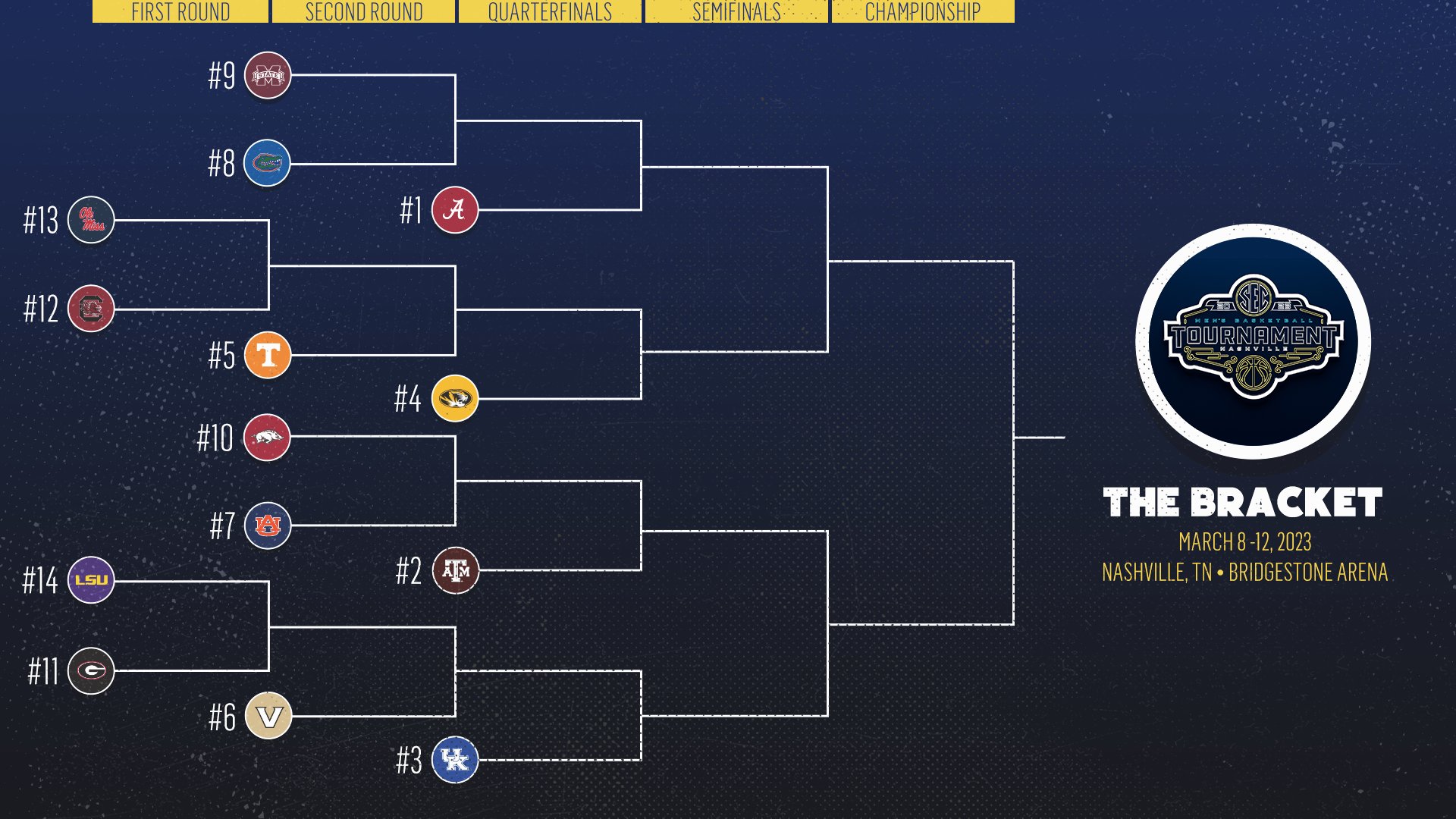 With Saturday's games now in the rearview mirror, we now know that the 2023 men's SEC basketball tournament bracket is officially set.
Rick Barnes and the Tennessee Volunteers (22-9, 11-7 SEC) are locked in as the fifth seed in the tournament, which means that the team will be starting the week on Thursday.
Nate Oats and the Alabama Crimson Tide landed the No. 1 seed in the SEC Tournament, followed by the Texas A&M Aggies at No. 2 and the Kentucky Wildcats at No. 3. Missouri, a team that beat Tennessee by a buzzer-beating heave in Knoxville, rounds out the top four.
More from RTI: Auburn Dominates Winning Time As Tennessee's Late Game Struggles Continue
Tennessee will take on the winner of No. 13 Ole Miss vs No. 12 South Carolina on Thursday afternoon. Then, the winner of that game will take on Missouri in the quarterfinals for the right to take on either No. 9 Mississippi State, No. 8 Florida, or No. 1 Alabama in the semifinals.
Tennessee will look to defend its 2022 SEC Tournament championship victory this upcoming Thursday in Nashville, Tennessee's Bridgestone Arena.
First Round:
Wednesday, Mar. 8

Game 1: No. 12 South Carolina vs No. 13 Ole Miss – 7:00 p.m. ET, SEC Network
Game 2: No. 11 Georgia vs No. 14 LSU – 9:00 p.m. ET, SEC Network
Second Round:
Thursday, Mar. 9

Game 3: No. 8 Mississippi State vs No. 9 Florida – 1:00 p.m. ET, SEC Network
Game 4: No. 5 Tennessee vs Game 1 winner – 3:00/3:30 p.m. ET, SEC Network
Game 5: No. 7 Auburn vs No. 10 Arkansas – 7:00 p.m. ET, SEC Network
Game 6: No. 6 Vanderbilt vs Game 2 winner -9:00/9:30 p.m. ET, SEC Network
Quarterfinals:
Friday, Mar. 10

Game 7: No. 1 Alabama vs Game 3 winner – 1:00 p.m. ET, ESPN
Game 8: No. 4 Missouri vs Game 4 winner – 3:00/3:30 p.m. ET, ESPN (Would be Tennessee if Vols win)
Game 9: No. 2 Texas A&M vs Game 5 winner – 7:00 p.m. ET, SEC Network
Game 10: No. 3 Kentucky vs Game 6 winner – 9:00/9:30 p.m. ET, SEC Network
Semifinals:
Saturday, Mar. 11

Game 11: Game 7 winner vs Game 8 winner – 1:00 p.m. ET, ESPN
Game 12: Game 9 winner vs Game 10 winner – 3:00 p.m. ET, ESPN
SEC Tournament Championship:
Sunday, Mar. 12

Game 13: Game 11 winner vs Game 12 winner – 1:00 p.m. ET, ESPN
SEC Standings:
THE BRACKET. #SECMBB x #SECTourney pic.twitter.com/mfbPJPjlUf

— Southeastern Conference (@SEC) March 5, 2023