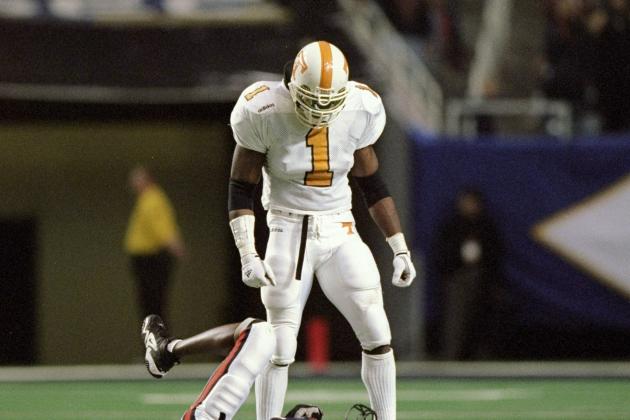 I had the recent privilege to chat with VFL Leonard Little. Here is a transcript of our conversation:
On the Rams moving to LA
It's good for business. But the people the team left behind, they're heartbroken. And the city of St. Louis I'm pretty sure are heartbroken because they won a Super Bowl and went to another one, so they feel like the Rams were theirs now. For the city of St. Louis I think it's a terrible situation you know. A lot of feelings were hurt, a lot of jobs are gone and somehow they've got to pick themselves up and try to move forward.
On Tennessee's 2015 season and potential for 2016
Going back to when Coach Jones took this job and started recruiting like he did, I always said 2016 was the year we would basically make a run to get to the SEC Championship. Last year, we had a lot of obstacles to overcome to get to the SEC Championship and we almost overcame all those obstacles to get there. But I think this year we will be better equipped to get over those obstacles. I think 2016 is the year we're probably going to be favored to win most of the games, and it's a real possibility that we might be in Atlanta in December. And I always said 2016 was the year to do that.
On 2016 being "SEC Championship or bust"
I wouldn't say that. But I would say we have a better opportunity to get there. You know when I played there, we had some of the best teams to ever come through there and we only made one SEC Championship. So I won't say it's SEC Championship or bust, but I know we should have a really good chance to get there. So I'm very optimistic. I won't say SEC Championship or bust because I know there's too many variables that go along with it. But I would say we have a good chance of getting there.
On Tennessee's defense performing at a high level
Jalen Reeves-Maybin has been performing like this since he took over the starting job. And the thing with him that I like, he started playing special teams his first year to just even get on the field and the next year he moved up the ladder. So he did it the long way, but he did it the right way. And Kirkland, he came in and did a good job and by the end of the year he was playing good too. And Derek Barnett is Derek Barnett. I mean he's been playing well since he stepped on campus. And I think he has a chance to break the sack record for the school. I think he has a real chance of doing that. And Cam Sutton is probably one of the best DB's that ever came through there. He's among the great ones.
On how JRM will translate to the NFL
He'll translate well. He's a smart kid and the thing about the NFL, it's not always about your physical ability but what you know upstairs. So he's a smart kid and he'll get everything down. You know naturally, he'll gain a little weight he goes to the NFL because it's all football – no school, no class. He reminds me Lavonte David for Tampa. He's a smaller guy, but you know he plays bigger than what he is. I think he'll be fine and I think he will get drafted pretty highly.
On sharing his former number with Jalen Hurd and Kahlil McKenzie
That's fine with me. Kahlil McKenzie's going to be a great player moving forward. He was slow to get in the process but now he knows the process. So he'll be a great player. Jalen Hurd is what he is. He's a big beast. He's doing a great job. I really don't care that much about who wears the number, but I couldn't be more proud of those two guys wearing the number.
On Peyton Manning ever coaching at UT
I don't know about that. It would be too much pressure for Butch Jones because if something goes wrong, he'll always have to look over his shoulder because if something goes wrong it's going to be like "Peyton Manning should be the Head Coach" or something like that. And I think it would be too much pressure on him. If this is his last season with the Broncos, he'll find a way to contribute to UT. If he wants to do it, I'm sure he'll come up with a viable plan.
On who hit harder between him and Al Wilson in college.
Oh man! I don't know! He had some good hits in college and I had some good hits. There might have been a little competition on who could hit the hardest at times, but that's a hard question man. I mean that's a hard question. We both had some hard hits. You'll have to ask someone else who was watching.
On coming back to Knoxville soon
I usually make it up to a couple games every year. Bristol is in September so that's near my hometown. I might go to that for sure. I think I might go over there this offseason and talk to those guys too and hang out for the day. It's good to expose the young guys on how we used to do it. It's good to be there if they have any questions about stuff on the field or off the field, you want to be there for them and I'm glad Coach Jones has that open door policy.